Fabrik-preiswerte benutzte galvanisierte Vieh-Zaun-Platten
1. Produktbeschreibung
Pferdepaneele werden aus robusten verzinkten Stahlrohren hergestellt, die durch vertikale Pfosten und horizontale Schienen zu einer stabilen Struktur verschweißt werden. Eine Pferdearena oder ein Pferch können mit Stücken von Platten gebildet werden, die mit Zubehörteilen verbunden sind. Pferdepaneele sind einfach zu installieren und zu demontieren. Sie sind weit verbreitet, um Pferde in Ackerland, Paddocks, Arenen, Rodeos, Ställen usw. zu umschließen und zu schützen.
Material

Carbon steel

Pipe thickness

1.6mm - 1.8mm.

Pipe dimension

Three types ( round pipe, square pipe, oval pipe)

1. round pipe: 32mm; 42mm.

2. square pipe: 40mm × 40mm; 50mm × 50mm.

3. oval pipe: 30mm × 60mm; 40mm × 80mm; 50mm × 100mm; 40mm × 120mm.

Panel size (H × L)

1.0m × 3.0m; 1.5 × 2.0m; 1.6m × 2.5m; 1.8m × 2.1m; 1.8m × 2.1m; 1.8m × 2.4m, 1.8m × 3.0m, etc.

Finish

hot-dipped galvanized, power painted, PVC coated.

Painted color

white, gray, orange, green, red, pink, etc.

Bars/Rails

3 rails, 4 rails, 5 rails, 6 rails, 7 rails. 1.8m high with 6 bars/rails or 1.6m high with 5 bars/rails, etc.

Packing

packed in steel pallet or in bulk.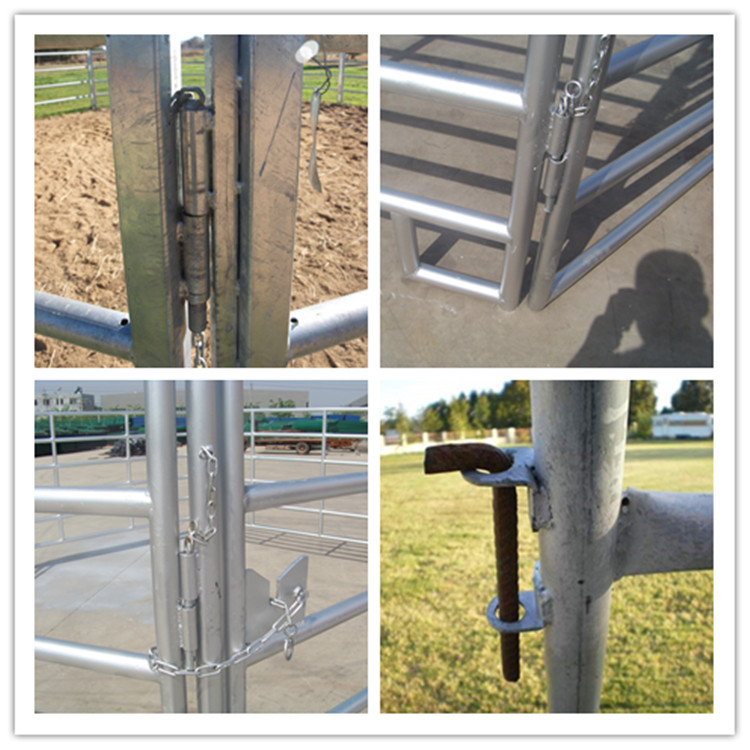 Produktgruppe : Maschendrahtzaun > Pferdezaun